Wednesday Aug 24, 2022
8:00 AM - 9:00 AM PDT
Becoming an Intergenerational Talent Magnet
Creating a positive, productive culture that attracts talent and encourages innovation requires intentionality. Once you've identified your company's core values and higher purpose, you can hire by them, onboard members by them, and truly live your values which will lead to long-term success, profitability, and growth.
Reinforce the business advantages when mentoring with intentionality, leading to corporate resiliency, employee engagement, personal development, and proven higher profitability.
Understand why today's generations are attracted to corporations that have established a brand and a caring culture of inclusion, shared vision, personal empowerment, and self-accountability through responsible freedom.
Demonstrate the long-term benefits of mentorship as a methodology for succession planning, legacy building, and personal mental wellbeing development
Speaker: DeLinda Forsythe
DeLinda Forsythe is a thirty-five-year executive, CEO, and entrepreneur in the contract furniture industry. She founded Innovative Commercial Environments (ICE) in 2006. ICE has been on the Inc. 5000 7-times in part because of her decision to partner with Millennial co-workers. DeLinda captures this journey in Inspiring Generational Leadership: Your Guide to Design a Conscious Culture which provides a guide to the advantages of creating a culture of multi-generational mentorship.
DOWNLOAD SLIDES
LEADDD CONFERENCE - SAN DIEGO
JUNE 24, 2022 2:15 - 3:15 HYBRID VIRTUAL & IN-PERSON EVENT
The Mutuality of Generational Mentorship
Gender equality has been a driving purpose for me as CEO | Founder of Innovative Commercial Environments thus I'm incredibly honored to be a keynote speaker at the Tri Delta LEADDD conference June 24 2:15-3:15 PST in my hometown, San Diego!
Tri Delta's foundation is "sisters helping sisters", connecting and empowering over 250,000 collegiate and alumnae women thru transformational programs, scholarships, and emergency financial support.
The LEADDD Experience
Get access to five full hours of personal and professional development, live on Friday, June 24, and on-demand after the event!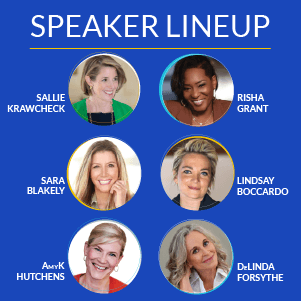 Women & Success: Shattering Glass Ceilings: an opening keynote and panel featuring CEO and co-founder of Ellevest Sallie Krawcheck, North Carolina
Leading in High Achiever Land with Lindsay Boccardo
Diversity Done Differently with Risha Grant
Creating a Culture of Multi-Generational Mentorship with DeLinda Forsythe
She Gets It: Elevating Your Bold & Brilliant Voice with AmyK Hutchens, California/San Diego
NOTE: This Event Is ALSO VIRTUAL. Register for the event, and if you can't attend live, you will receive a recording of the event.
Great Lakes Bay Region, Saginaw, MI
MAY 12, 2022 7:30 - 10:00 AM HYBRID VIRTUAL & IN-PERSON EVENT
Why Don't You Act My Age? Consciously Leading an Intergenerational Team
Led by CEO | Author | Conscious Capitalism Ambassador DeLinda Forsythe
What types of opportunities does having five generations in today's workforce present? How can organizations optimize those opportunities through the lens of Conscious Capitalism?
One of the greatest sources of potential is in the intergenerational make up of your workforce. Harnessing that potential is one of the greatest challenges. It's a tall order to dispel generational stereotypes and address the needs and preferences of many different groups of employees at once. What happens when a leader sets aside their assumptions, fosters a culture of mutual respect and productive collaboration, and takes not a generational approach, but rather a human approach to consciously leading their employees?
"Leaders need to look at the multigenerational workforce as a benefit rather than a challenge. From a tactical standpoint, once you have the mindset that it's a benefit, you pave the way for a healthy discourse, for a diversity in opinions, and for a richness in dialogue."
-Aaron Raby
We invite you to join fellow Conscious Capitalists, a panel of local intergenerational leaders, and featured guest DeLinda Forsythe, Conscious Capitalism ambassador and best-selling author of "Inspiring Generational Leadership: Your Guide to Design a Conscious Culture," to discover how an effective intergenerational workforce supported by a conscious culture of cross collaboration and mutual mentoring offers unprecedented opportunities to:
– attract and retain the best talent
– overcome inaccurate generational perceptions
– integrate your company's purpose and stakeholders into your operating system
– create sustainable change and value for all stakeholder
– reveal the financial, societal, and emotional benefits of leading and building a conscious business enterprise
while creating a profitable business with a succession plan that defines legacy and embraces the future vision of capitalism.
Location of In-person Event:
Saginaw Valley State University
7400 Bay Rd
University Center, MI 48710
Banquet Rooms A-C, Curtiss Hall
NOTE: This Event Is ALSO VIRTUAL. Register for the event, and if you can't attend live, you will receive a recording of the event.
Atlanta, GA
April 21, 2022 4:30 - 7:30 PM IN-PERSON EVENT
Is the Great Resignation really the Great Escape?
Leadership strategies to inspire younger generations.
Led by CEO | Author | Conscious Capitalism Ambassador DeLinda Forsythe
Join DeLinda Forsythe and a panel of exceptional Millennial leaders as we learn how employee attraction and retention have evolved as one of the most costly and complex challenges to businesses. They will also share communication strategies that will inspire, engage and attract Gen Z and Millennial generations to your workplace!
The schedule includes networking time before and after the program along with heavy snacks and beverages.
Location: NameImproving Office, 11675 Rainwater Drive, Ste 100, Alpharetta, GA, 30009 US
Kansas City, Missouri
April 14, 2022 5:15 - 7:30 PM IN-PERSON EVENT
Mentorship is essential to creating a more enlightened, conscious culture. By sharing their experience, mentors support emerging leaders while mentees offer fresh perspectives on company challenges and opportunities. It's a relationship that benefits both parties, their company, and the community they serve.
Join us for this hands-on, interactive event featuring two experts on developing conscious cultures and the long-term personal and professional impact of meaningful mentorship.
Bonus: All participants receive a copy of DeLinda's best-selling book Inspiring Generational Leadership: Your Guide to Design a Conscious Culture.
5:15 - 6 p.m. - Networking (food & beverage provided by Enjoy Pure Food + Drink)
6 - 7:30 p.m. - Interactive program & panel discussion
7:30 p.m. - Continue networking
Cost: $25/person
(includes appetizers, drinks, and the book)
Location:
HEMP Program Office
2000 Baltimore Avenue, Ste 200
Kansas City, Missouri 64108